WOOD LINE
Plus
Lighter and less expensive line of pipes
specifically designed for pellet stoves

DESCRIPTION
These pipes are lighter and less expensive than the Plus 1.2mm line, while maintaining all the characteristics and performance standards. They are fully compatible from both the technical point of view - thanks to the same connections and dimensions - and the aesthetical point of view, thanks to the same enamel coating. These pipes can be fitted with Plus 1.2 mm line elbows and tees or Classic line elbows.
Representing the highest level of SAVE Spa quality, laser-welding ensures these carbon steel pipes perfect welding. Subsequent internal/external vitreous enamel coating baked to 850°C provides exceptional resistance against corrosion by combustion condensate.
V2 test results specified by corrosion resistance Standard 1856-2 show that Plus 1.2 mm and Plus Light flue pipes have a significantly longer duration than normally painted 2 mm thick pipes that have not received internal vitreous enamel coating.
They are perfectly resistant even to extreme situations such as soot-fire (a fire that occurs inside the pipe) without being damaged or modified.
The Declaration of Performance(DoP) n°6 - Plus Light is available in the download area, with reference to all the tests performed and Installation and Maintenance Instructions to ensure the greatest safety during use
ANTI-CONDENSATE MODE
In order to prevent the leakage of condensate, they must be fitted with the inlet facing downwards (see drawing). To do this, it may be necessary to use an F/F anti-condensate fitting to start with.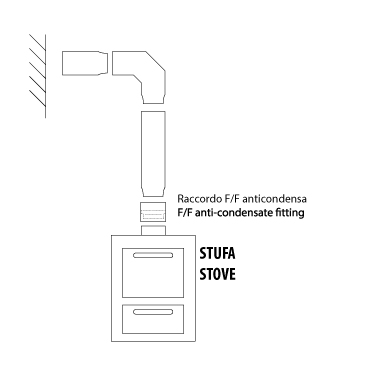 COLOR RANGE